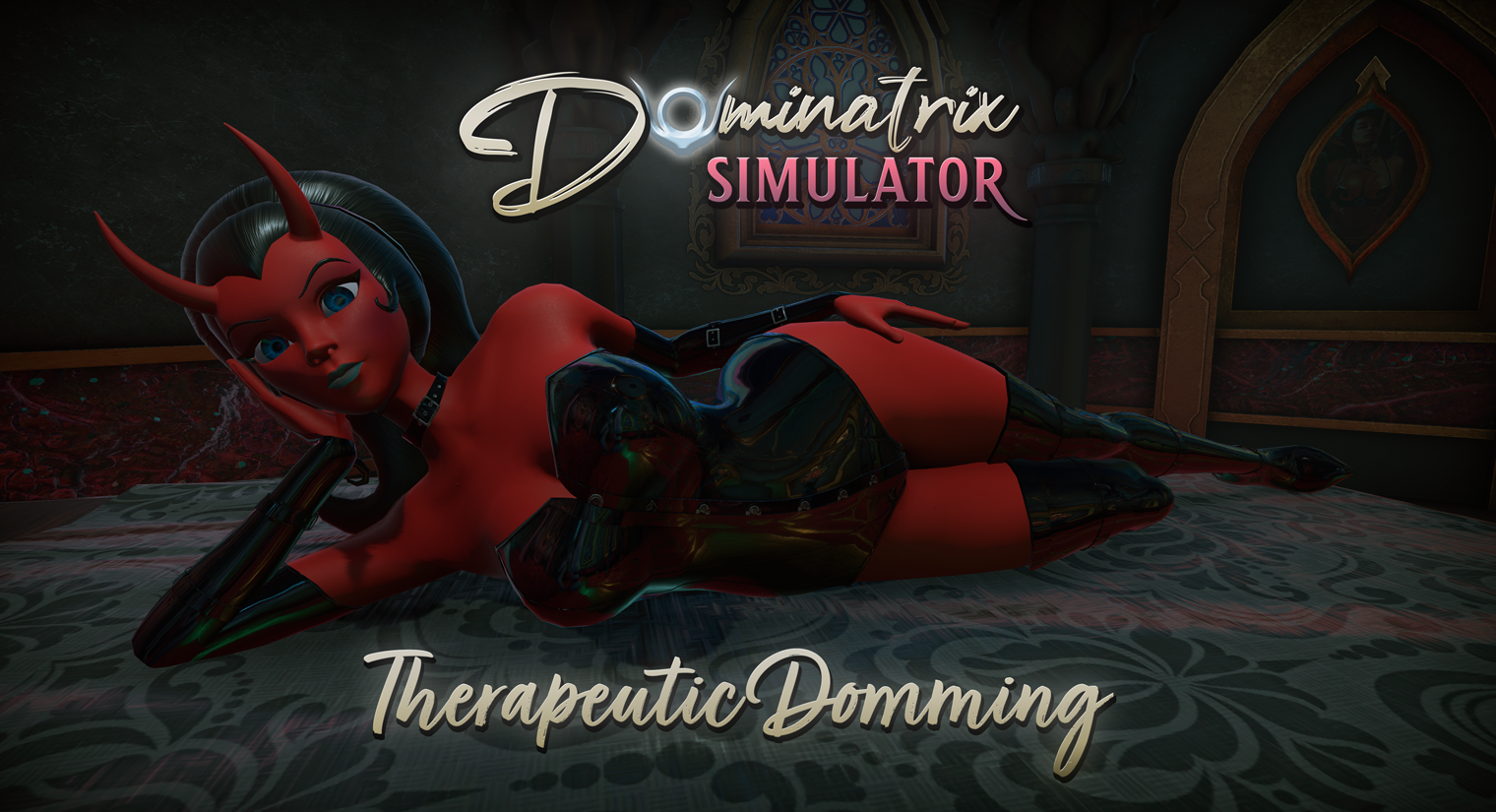 DomSim: Therapeutic Domming
A downloadable experience for Windows
Get this experience and 31 more for $0.00 USD
View bundle
I am so freakin' excited to share this latest experiment with you!

I have literally been squirming in my seat, staying up late, and coordinating with lots of helpers to bring this new build to you!!
Introducing our new, experimental Devilish Domina Therapeutic Domming experience!
I've been thinking about creating something like this for a long time. With so much going on in the world piled on top of the normal every day struggles we all deal with, sometimes, we just need to be told everything's going to be okay.
All you have to do is download the build, load it up, and let my virtual Devil Girl avatar know if you need regular comfort or if you're grieving. Sit down or lay down on the virtual bed with me and let me give you a safe place to rest for a little while.
I've coded up this scene to be an infinite meditative loop. Once you sit or lay down, I don't stop talking until you stand up or quit the scene. I won't ask you any questions or give you any commands. I will just be there comforting you until you don't need me anymore.

Since this is experimental and we're not sure what you all will think of something like this, please, please, please share your comments, suggestions, feedback, etc, below or leave feedback on our Discord.
| | |
| --- | --- |
| Status | In development |
| Platforms | Windows |
| Rating | |
| Author | deviant.tech |
| Genre | Role Playing, Simulation |
| Made with | Unity, Adobe Photoshop, Oculus Rift, HTC Vive |
| Tags | 3D, Female Protagonist, LGBTQIA, Mental Health, Unity, virtual-reality-vr, Voice Acting |
| Average session | About a half-hour |
| Languages | German, English, Spanish; Castilian, French, Italian, Japanese, Korean, Polish, Portuguese (Brazil), Russian, Chinese (Simplified) |
| Inputs | Keyboard, Mouse, Oculus Rift, HTC Vive |
Download
Get this experience and 31 more for $0.00 USD
View bundle
Click download now to get access to the following files:
DomSim: Therapeutic Domming
1 GB
Comments
Log in with itch.io to leave a comment.
How does one download this and get the unity player going? Im not all that bright in that department?
Hi! You shouldn't need Unity to load this. It should run without it. I'll get our Developer to respond. You can also find him on (DeviantDev) Discord: https://discord.gg/Xv8b74H

Very relaxing and something that we can all use from time to time. Particularly with all the uncertainty and stress in the world today. Perhaps you can add her to the Dominatrix Simulator. She can have her own room that the player can visit if they need a "break" from the mistresses.
Thansk for the feedback! We've actually had a few fans suggest the same thing, so we are exploring that and thinking of calling her 'Miss-Treatment". Too cheesy? :)
Lol, not too cheesy at all! It's perfect! I love a good pun! I'm trying to be patient but I cannot wait for more Dominatrix Simulator!
Thank you for creating this, and I love your work. However, for the Windows, I can't seem to sit down or lie down. Whenever I open up the options and click on it, it exits me out of the experience.
Oh no! Thanks for letting us know! We will see if we can replicate the bug.

Have you tried just using the SHIFT key to lower your view down? That will trigger the 'sit' or 'lay down' without needing to use the options menu.
Hi! We've fixed some bugs related to sitting and standing with K&M. Let us know if it's working now!
Man I feel betrayed not what I expected from a domming simulator I'm sure this is good for a certain type of personality but not mine sadly well done on the graphics and neat idea though my full play through here:
Thank you for trying out the experience! I'm sorry to hear it wasn't what you were looking for. It's definitely a unique experiment around creating something soothing and meditative to help people through in this crazy time of ours and quite a departure from our main Dominatrix Simulator game.
Have you tried that one, by the way? It might be more up your alley. There's a free demo if you'd like to give it a try:

Very calming and meditating, also a nice looking deviless with a sweet voice.
Thank you so much for trying this and sharing feedback!
Is this something you'd enjoy seeing more of?
It was a pleasant experience and be nice to see this develop more so in dialog in the future.